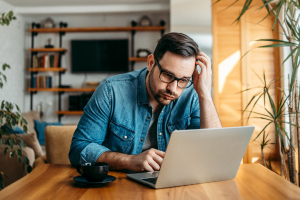 It's difficult to imagine what life was like before the internet. We log in daily to pay bills, shop, watch movies, and check out what friends and family are up to on social media. While the internet has made life easier, we may not consider how our online activities can make personal information — such as our Social Security numbers (SSNs) or bank account and credit card numbers — vulnerable to cybercriminals on the dark web.
Fortunately, you can find out if your information is on the dark web and keep tabs on your sensitive information with extensive dark web monitoring, offered through McAfee's Identity Protection services.
This article explains what the dark web is, how to find out if personal details have reached the dark web, and how to protect your sensitive information.
What is the
dark web
?
Unlike the surface web we use for things like shopping and online banking, the dark web is part of the internet that's not indexed by search engines. It can only be accessed with special web browsers. A few widely known networks include Tor, I2P, and Riffle.
Cybercriminals can browse, sell, or trade on dark websites with confidence and complete anonymity. Because of its highly layered encryption system, hackers can communicate without giving away their location, IP address, or identity.
How does data end up on the
dark web
?
Data can end up on the dark web in several ways, including through data breaches, using public Wi-Fi, visiting a nonsecure website, and leaving an offline paper trail.
A cybercriminal may hack into company databases and take personal data, such as email account addresses, passwords, and phone numbers. And while we all love to work at our favorite coffee shop, using an unsecured Wi-Fi network can leave our personal information in public view.
That's why using a virtual private network (VPN) like McAfee Secure VPN, which comes with bank-grade encryption to scramble your data, can be a good idea. You'll also only want to visit encrypted webpages when browsing online — keep an eye out for URLs beginning with HTTPS rather than HTTP. The "S" means added security for you. Lastly, shred paper containing your personal information or lock it away until you can.
How to find out if your information is on the
dark web
With identity monitoring through McAfee Identity Protection, you'll receive notifications if we find your personal information on the dark web. Our extensive monitoring service keeps tabs on up to 60 unique types of personal data and can notify you up to 10 months sooner than similar services. Plus, you get peace of mind with up to $1 million of ID theft coverage and hands-on restoration support to help reclaim your identity after identity theft.
Can you remove your information from the
dark web
?
While you can't remove your information once it's on the dark web, there are plenty of steps you can take to help protect yourself and prevent your data from falling into the wrong hands. You can:
Notify the

credit bureaus

:

The three major

credit bureaus

(

Experian

,

Equifax

, and

TransUnion

) offer options to prevent fraudulent credit requests. If you're looking to protect your credit data, request an option like

two-factor authentication

on all credit pulls when notifying the bureaus of your concern.

Change your account passwords:

Keeping your password secure is crucial to the safety of your online data when it comes to things like

online banking

and

email accounts

. Stay away from personal names, dates, or obvious preferences when creating or updating your passwords and use a

password manager

like

McAfee True Key

, which auto-saves and enters your passwords.

Review your

credit report

:

Staying up to date with the changes reflected on your

credit report

can help you identify

suspicious activity

or

fraud alerts

. Unexpected drops in your credit can be a sign of potential

illegal activity

.

Track

credit card

statement charges:

Credit cards

are a large target for

hackers

looking to commit a

cybercrime

. Thankfully, there are ways to keep your

credit card

data secure, starting with regular reviews of your statements to ensure no unexpected charges or usage.

Scan your online devices for viruses:

Keeping your device free of viruses can help prevent

hackers

from taking your information in the first place. Start by downloading

antivirus

software

, like what's included in McAfee Total Protection, to prevent opportunities for viruses to infect your device or collect your secure data.
6 tips to prevent your data from getting on the
dark web
No one wants their information to end up on the dark web. Fortunately, you can do a few things to minimize your risk of exposure. Here are some tips you can use to keep your data safe.
Secure your data with identity protection software from McAfee
Identity protection software from McAfee can help keep your information out of the hands of cybercriminals. Some features of McAfee identity protection include expert security support, award-winning antivirus protection, a password manager, and firewall protection. Choose the plan that works best for you and keep tabs on your personal information.
Sign up for
two-factor authentication
on your devices
This extra layer of security double-checks your identity when signing into an online account. You enter your password as usual and a unique six-digit, one-time code is sent to a trusted device via text. This added step can help improve the security of your personal information.
Use a unique password for each account
When creating or updating your account passwords, make sure to choose ones that are difficult to guess. Avoid using a pet's name, your name, or other personal information that others can guess. It goes without saying, but don't share any of your passwords.
Consider what you share on
social media
Shared content can tell a lot about someone. Have you ever shared the make and model of your first car, your favorite movie or band, or your high school graduation year? This information helps unsavory characters figure out online passwords and security questions.
Change permission settings for app
There are a lot of cool apps out there, and many are harmless. However, some may request access to your location, photos, contact list, and even microphone. Certain apps, especially those filled with malware, can then collect your data and share it with others. Fortunately, Android devices and Apple iPhones allow you to change your permission settings for apps.
Use caution with suspicious emails
With so many emails arriving in our inboxes, we may not always pay close attention to what we're opening. However, scammers may use phishing emails in an attempt to access your personal information. Sometimes, these emails are obvious, but they can also look legit and appear as a trusted company, such as your bank or credit card company. If something seems amiss, such as a billing error or an invoice, log in through the company's website rather than click links inside the email.
Discover how McAfee Total Protection keeps you safe online
No one wants their information on the dark web. Thankfully, there are several things you can do to keep your personal information secure, including all-in-one protection from McAfee.
McAfee Total Protection comes with advanced identity monitoring, which provides faster and broader detection for your identity, plus premium antivirus software, safe browsing, and Secure VPN.
With easy setup and extensive monitoring, you can maintain your digital identity and gain peace of mind.