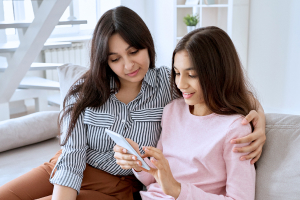 Finding someone who hasn't heard of TikTok in 2022 would be quite the achievement. As one of the most popular social media platforms of the moment, it is not only being used by our tweens, teens and even grownups to connect but also as a crucial way to tell important stories amidst a backdrop of natural disasters and even war.
As parents, we know we need to keep up with the latest social media platforms but let's be real – we don't always have enough time. So, I'm going to do the hard work for you. Here's my overview of TikTok – what it is, the risks, and most importantly, how you can help your kids (or yourself) stay safe while using it. You're welcome!!
What Actually Is Tik Tok?
Tik Tok is a social media platform that can be downloaded on any smartphone via an app. Once you've signed up to the app and become a user, you can create and then share short videos of 15 seconds in length on any topic.
The app started life as Musical.ly, a super popular video streaming app that also allowed users to make funny 15-second videos, many of which focussed on lip-syncing. By mid-2017, the app had over 200 million registered users. In 2018, the app was taken over by Chinese company ByteDance and all of its users (and their content) were moved to TikTok.
How Popular is Tik Tok?
According to Hootsuite, TikTok is the 6th most used social media platform in the world. As of late September 2021, TikTok had over a billion monthly users and as of August last year, it overtook Facebook to become the world's most downloaded app. Facebook does, however, have more monthly users, reporting a massive 2.74 billion users as of August 2021.
Who Is Using It?
It appears TikTok is used by females (57%) more than males (43%) however its user base is very diverse and cuts across all age categories – yes, even us parents! But brands hoping to reach younger female audiences are without a doubt using TikTok to showcase their wares. What is interesting is that although we all think that TikTok dominates the Gen Z market, research shows that it doesn't rank as the top choice for younger users – in fact only 4.3% of users name it as their favorite platform. Users between 16 and 24 nominate Instagram as their top choice!
How Old Do You Need To Be To Use TikTok?
Unlike other social media platforms, there is no minimum age requirement when using TikTok. The company says that it adjusts a user's privacy settings based on the birthday entered when setting up the account. If a user is under the age of 13, they will automatically be directed into the TikTok for Younger Users program which has additional privacy and safety protections. Of course, anyone can lie about their age, but TikTok has said publicly that it has moderators trained to predict when a user is suspected of being underage.
What Are The Risks of Tiktok?
As you would know, there are risks associated with using all social media platforms and TikTok is no exception. However, in my opinion the majority of these can be managed with a combination of critical thinking, parental controls, and preparation – more about these later.
But let's go worst-case scenario for one moment. Here are the potential risks that your child could encounter:
Contact from online predators

Inappropriate content: sexualized, violent, racist

Potentially damaging conversations around mental health

Anxiety from potentially poor reaction to their videos
How To Manage The Risks On Tiktok?
Unfortunately, it isn't possible to keep our tweens and teens in a bubble – I know, so disappointing! So, the best and only option is to prepare them for challenges online and arm them with tools to navigate the tricky stuff. Here's my advice on how to best help them manage TikTok:
1. Download The App & Start a Conversation
Knowledge is power, my friends. So, download the app and have a play so you better understand it. Then, why not ask your experienced in-house 'TikTokers' to show you how it works. Use this as an opportunity to ask them what they do when they see something that concerns them, or how they would manage approaches from people they don't know. Why not weave in reminders about the importance of online privacy and the permanence of their digital footprint? Commit to making these conversations regular.
2. Foster A Critical Thinking Mindset
Helping your kids become critical thinkers is, without doubt, one of the best ways of helping them prepare for life's challenges – both online and offline. Being able to rigorously question ideas and assumptions rather than accepting them at face value is your kids' golden ticket! So, if they are approached by friendly (but ill-intentioned) strangers online or sent a link to a super compelling offer online, they will have the 'smarts' to realise that all is not as it seems and to hit delete!
3. Use TikTok's Parental Controls Or Help Them Set Up Privacy & Safety Settings
If the horse has already bolted and your tween or teen has been using TikTok for a while, then introducing boundaries might be tricky but don't give up! TikTok has a Family Pairing feature which allows parents to link their TikTok account to their teen's account so they can control the settings remotely. This might be a good option if your child is younger or just starting out on TikTok. This gives parents the power to turn on Restricted Mode, screen time limits, and also turn off the direct message option.
Leverage Tiktok's Privacy Controls
If your child has been using TikTok for some time and you want to pull things back, then why not work with them to set up their privacy and safety features. I find kids always respond best when you explain why you are doing something so assure them you are just wanting to keep them safe. TikTok has a long list of features you can enable that will make your offspring's experience that much safer. From turning off downloads, filtering comments to introducing screen time limits, there is a great range of ways of making the TikTok experience much less risky. Check out the full list from TikTok here.
So, next time you hear your kids reference TikTok, don't immediately feel a pang of guilt that you don't really know what they are talking about. You've got this! Download the app, take a look around, read this post a few more times, and you'll be fine! And remember, our kids don't expect us to be experts straight away, or even at all. They just need to know that we're interested in all parts of their life and respect just how important their digital life is to them.
You've got this!!
Take care all
Alex xx