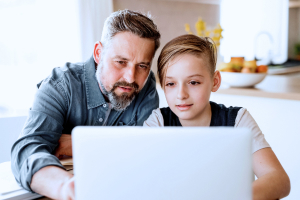 Whether it was bush fires, Covid, floods, or the Ukraine conflict, the news agenda over the last two years has been jam-packed. So, when McAfee released the findings of their first Global Connected Family Study, it was clear to me that connecting safely online needs to make it back into the news.
Over 15,000 parents and 12,000 children aged 10-18 from 10 countries (including Australia) were interviewed for the study with the goal of finding out how families both connect and protect themselves online. So, let me share with you the results that need to spring us into action.
Aussie children report the 2

nd

highest rate of cyberbullying (24%) out of the 10 countries surveyed. US children reported the highest rate. The average for all countries was 17%.
Aussie parents are not completely aware of what's happening in their children's digital lives with just 20% nominating that their child had experienced cyberbullying while in fact 24% had experienced it.
Children want to feel safe online and 73% of those surveyed look to their parents more than any other resource for help however parents are struggling to deliver.
Parents are more inclined to protect their daughters online than their sons. Girls aged 10-14 were more likely to have parental controls on their PCs/laptops in almost every country surveyed.
Children and teens want their privacy online and more than half (59%) will take steps to actively hide their online activity from hiding their browsing history to omitting details about what they are doing online.
What Can We Do About It?
I'm the first to admit that being a digital parent can be incredibly overwhelming. Staying abreast of the latest trends, apps and social media platforms can seem like a full-time job! And let's not forget the latest threats and risks too. But findings, like the ones above, do have a way of shaking up priorities and do serve to provide clarity on where we need to focus our attention as parents.
So, let's break it down into 5 steps that you can take to ensure you are minimising the negativity and risks your kids may experience online:
1. Check Your Family's Communication Culture
Without a doubt, one of the best things you can do for your family is create a culture where honest and genuine communication is a feature of everyday life. If your kids know they can confide in you, no matter what the problem is, then they are far more likely to come to you before a problem such as cyberbullying can feel unsolvable.
2. Commit to Understanding Your Kids' Online World
It's impossible to set boundaries and appreciate the risks in the digital world, if you don't really know what your kids are dealing with. You may have little natural interest in joining Kik, Snapchat or Instagram but if you kids use it – then you know what you need to do! And if your kids can see that you are more actively involved online and using similar platforms, they will be more likely to come to you if they experience a problem.
3. Introduce A Family Technology Contract
In my opinion, one of the biggest causes of issues online is the fact that children are given internet-enabled devices that require adult levels of maturity and problem-solving skills. But let's keep it real – that horse has bolted – most of our kids have phones in their pockets! So, the best way of managing this is to introduce a family technology contract.
Now this can be as simple or complex as you feel is necessary for your tribe. You may want to insist on just a few rules such as not sharing passwords with friends, seeking permission before downloading apps, and always being kind online. You could simply write these on a piece of paper and have your kids sign it. Whatever works for you but remember, the research is showing that our kids are looking to us to help keep them safe online, so include as much here as you think your kids need. And of course, these need to be age-appropriate. I love this one for under 5's from our eSafety Commissioner and this one is great for tweens and teens from The Modern Parent.
4. Talk Cyberbullying (And Empathy) With Your Kids
Bullying has existed long before the internet was even a word so unfortunately, it isn't going anywhere. But coupled with the intensity and very public nature of the online world, it can be devastating. In my opinion, the key to cyberbullying is prevention. So, ensuring your kids know they can come to you with any problem, having a tight connection with your child so you can pick when things are 'off' and arming them with a basic cyber safety toolkit (not sharing passwords, privacy settings on, being kind online & having time away from devices) is essential.
One of the ways we can also keep our kids from making mistakes online is by teaching them empathy. If kids haven't developed empathy, then they make decisions based solely on their own desires – without any consideration for others. Many experts believe that it is the absence of empathy that leads directly to bullying.
So, be a role model and start weaving the good old saying 'do unto others as you would like them to do to you' into your family dialogue.
5. Consider Parental Controls & Protection Software
The research findings are very clear: our kids want us to take charge of their online safety. So, let's get technology working for us so we can keep them safe.
Parental controls are not the silver bullet but when they are used in conjunction with proactive parenting then they can be transformative. McAfee's Safe Family offers parents the ability to monitor device activity, limit screentime, block apps, and filter websites. This is a great way of teaching boundaries and limits while also giving yourself peace of mind that your kids are as safe as possible.
Investing in comprehensive protection software for your (and your kid's) devices is another way of adding a layer of protection to their online world. Comprehensive security software like McAfee's Total Protection will protect against dangerous downloads, viruses, malware, online threats, and visits to risky websites. It will also encrypt the files on your computer and help manage your passwords! A complete no-brainer!!
So, please don't be overwhelmed and don't even aim to be the perfect digital parent! Break it down and do the best you can because protecting our kids online needs to be a top priority. So, as soon as possible – check your family communication, take some time to understand your kids' online world, put a digital contract in place, talk a little, and use some parental controls. But please do not forget about the power of role modeling. As parents, we are our kids' biggest influencers so it might just be time for you to up your own digital safety game too!!
Till next time.
Stay safe everyone!