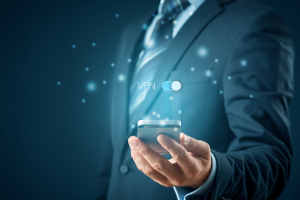 There's no denying that the internet fills a big part of our days. Whether playing, working, or studying, we rely on staying connected. But just as there's a lot of good that comes with the internet, it can also make us susceptible to cybercriminals.
This is especially true if you're using your phone on public Wi-Fi. Anyone with access to the public network can see your online activity, including hackers.
Fortunately, by keeping your personal information and data secure, you can continue to live your best life online. Advanced security and privacy tools like virtual private networks (VPNs) can shield your identity online, allowing you to browse online without worrying about hackers.
In this article, we'll show you how to set up a VPN on your Android device manually or use a VPN app like McAfee's Safe Connect VPN.
Why you should use a VPN on your Android device
Using a VPN with your Android phone can be a smart move that allows you to live a fully connected life without risking catching the eyes of cybercriminals.
A VPN essentially hides your online presence and encrypts your information so that no one can steal sensitive data, like credit card details and passwords. It maximizes privacy and safety by sending your encrypted information through a tunnel to VPN servers in various locations globally. It's so effective that not even your internet provider, search engine, or other third parties can take a peek at your data.
If you like video streaming on your smartphone but often run into geo-restricted content, you'll also find a VPN useful. It changes your IP address, allowing you to access blocked content on platforms like YouTube and Netflix.
Does
Android
have a built-in
VPN
?
If you have an Android smartphone, you can use its built-in VPN client or legacy VPN. The integrated VPN uses several protocol suites, including PPTP, L2TP, and IPSec, to deliver a secure internet connection.
However, you'll have to configure the built-in VPN manually, which can be hard. So, if you're not that tech-savvy, a VPN app can be a good option. McAfee Security for Mobile is one such app available on the Google Play Store.
You might also want to opt for an app when:
Setting up a

VPN

through an enterprise mobility management (EMM) platform

Establishing a different

VPN connection

for your

work profile

or personal stuff through

VPN settings

Increasing your connection options by using

VPN protocols

not supported by the client
How to set up
a
VPN
on
Android
Depending on your connection requirements and tech skills, we'll walk you through how to set up your VPN manually or through an app.
How to manually set up an
Android
VPN
Setting up a VPN manually by adjusting the VPN settings is one way to get the job done. This approach allows you to connect your device to a VPN server by entering configuration details.
You can set up the VPN manually via the user interface (UI) on your Android phone. The UI plays a big role in setting up and controlling the VPN solution. When the VPN is active, your mobile device system notifies you through the home screen.
To get your VPN up and running on your Android operating system, you'll need to find the "Settings" menu on your device.
Once you reach the "Settings" menu, select "Wireless & Networks" or "

Wi-Fi

& Internet."

From there, select "

VPN

" (depending on your device, you may first need to tap "More").

Next, find the "+" sign at the top right corner of your screen or go to the "Advanced Options" menu via the three vertical dots icon.

Finally, enter your

VPN

's

configuration

details like username, server address, and password. The

VPN provider

will typically provide this information.
How to set up
an
Android
VPN
using an app
If you want to set up a VPN quickly and easily, your best bet is to install a VPN app on your mobile device. For instance, you can simply download McAfee's Mobile Security app from the Google Play Store and register an account, allowing you to log in and start enjoying full protection.
Once you choose a VPN provider and sign up for a subscription plan (if paid), you're ready to set up your VPN using the Android app. While the setup process can differ slightly depending on the VPN, here's the process for setting up McAfee's Safe Connect VPN app:
First, download and install the

VPN app

from the

Google Play Store

.

Launch the app.

Accept the Privacy Notice and License Agreement.

On the next screen, you'll be asked to activate a free seven-day trial (no credit card required) or continue with a free account (250 MB data

protection limit).

Next, select the ideal

VPN server

in a location that suits your connection needs.

Activate your

VPN

by tapping the blue "Start Protection" button or turn on "Safe Connect" using a slider located on your phone's notifications area.

Lastly, agree to the connection request by tapping "Ok" on the dialog box that appears. And, voila, your McAfee

VPN

for Mobile is active.
Keep your
Android
secure with McAfee Security for Mobile
Now that you know about various steps to install a VPN on an Android device, consider investing in the award-winning McAfee Mobile Security App. This service comes with useful security tools for browsing the net on mobile devices and privacy protection for your Wi-Fi network. You can count on the award-winning software to secure your phone and the data it sends over the internet.
In addition to keeping your connection private, the software detects unwanted visitors and malicious apps. McAfee Mobile Security integrates an antivirus VPN that scans your device for cyberthreats and neutralizes them. The software delivers robust protection against evolving threats and gives you peace of mind.
Start protecting your digital life and securing your network traffic by signing up for McAfee Security for Mobile today.