India's Computer Emergency Response Team (CERT-In) has given many of the nation's IT shops a big job that needs to be done in a hurry: complying with a new set of rules that require organizations to report 20 different types of infosec incidents within six hours of detection, be they a ransomware attack or mere compromise of a social media account.
The national infosec agency stated the short deadline is needed as it has identified "certain gaps causing hindrance in incident analysis."
Organizations can use email, phone, or fax to send incident reports. Just how the analog mediums will improve improve analysis gaps is uncertain.
The rules [PDF] apply to service providers, intermediaries, datacenter operators, companies and government organizations.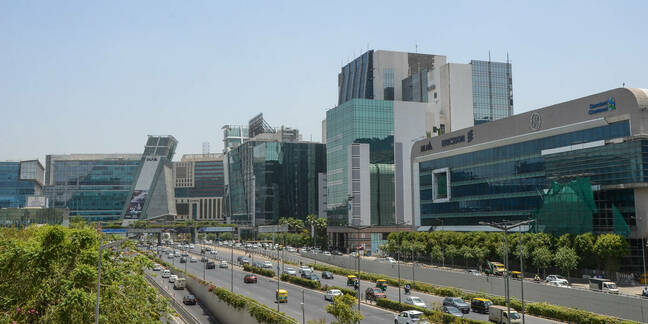 The business district Cybercity in Gurugram, near New Delhi (click to enlarge)
In total 20 incident types are listed, and some such as ransomware attacks and data breaches are clearly worthy of swift reporting. Others are very vaguely worded: the threshold for "Attacks or malicious/ suspicious activities affecting Cloud computing systems/servers/software/applications" is surely worthy of clarification. Other incidents that require reporting, such as website defacement or unauthorised use of social media accounts, seem not to have the same seriousness as others.
The six-hour reporting window is also short: Europe's General Data Protection Regulations require data breach reporting within 72 hours and the USA is pondering 24-hour reporting requirements for government agencies.
Entities covered by the rules are also now obliged to keep and maintain logs of all their ICT systems for a rolling period of 180 days, and submit them to CERT-In when asked.
CERT-In also put the onus on Datacenters, Virtual Private Server (VPS) providers, Cloud Service providers and Virtual Private Network Service (VPN Service) providers to not only register customer data, but to also maintain it for a minimum of five years. Data to be retained includes names of customers, hire dates, IP addresses, email addresses, services, ownership patterns and more.
The crypto sector has also been given extra requirements. Virtual asset exchange and custodian wallet providers must maintain Know Your Customer (KYC) records and financial transactions for a period of five years, a likely signal Indian authorities are clamping down on the use of cryptocurrency for money laundering.
Another new requirement is for Indian entities to use Network Time Protocol servers provided by either the National Informatics Centre or National Physical Laboratory, or NTP servers traceable and synched to those organisations. The reason for this requirement was not explained.
"These directions will enhance overall cybersecurity posture and ensure safe and trusted internet in the country," CERT-In stated.
And now for the best bit: the rules come into effect in 60 days. Which is not a lot of time to establish the procedures required to deliver six-hour reporting.
Good luck, Indian sysadmins. ®