Cloud directory specialist JumpCloud is moving into the crowded patch management market with an extension to its platform to automate patch updates.
Companies such as Apple or Microsoft already have varying levels of patch management tools in their armoury. JumpCloud's take, like its directory platform, straddles devices with a centralised view across a company's estate.
The first release will take care of Windows and Mac, with Linux following by the end of the first quarter of 2022.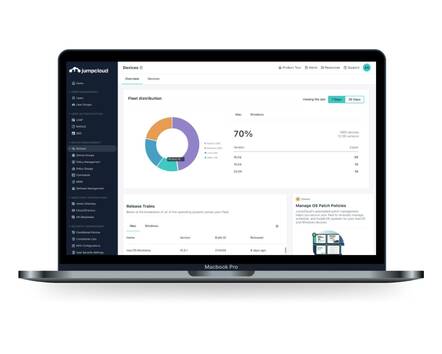 Browser and application patching will come later, and principal project manager Tom Bridge told The Register that an iOS version would be along by summer.
Android support was "an area of intense interest inside JumpCloud" and would be coming at some point this year, he added.
As for how it works, Bridge explained that the system goes crawling through public information made available by the Apple and Microsoft update systems, and local agents on user devices can then install what is required or roll back depending on policies configured by the administrator. As one would expect, the grace period during which a user might be nagged about an update can be configured before the hammer drops and an update happens.
Customers can expect to pay $3 per user per month, according to Bridge, on a per-user rather than per-device basis. Availability is due to hit in the coming weeks for all à la carte JumpCloud users, with the settings slotting into the Policy Management section of the JumpCloud console. Administrators will then be able to view the state of their enterprise from the same console.
In the future, in addition to Linux, mobile devices and application patching, cloud-based instances such as EC2 are very much in the crosshairs. "There's a plan for that," said Bridge, not at all ominously.
It is, however, a crowded marketplace. We asked why an administrator would bother with such a thing when Apple and Microsoft are thrusting their Business Manager and Intune wares down the throat of enterprises. JumpCloud's take, as with its directory, is a centralised pane from which to manage things, thus making life a little easier.
"At the end of the day, how important is the security of the organisation versus the productivity of one person?" asked Bridge.
"And the answer, you know, always comes down on the side of 'Please do your updates in a timely fashion'…" ®