A huge distributed denial-of-service cyber-attack has taken down Ukrainian defense military websites and at least two of the nation's biggest banks on Tuesday.
Ukraine's Ministry of Defense website is still down at time of publication, although it reports, "Technical works on restoration of regular functioning," are on the way after it was "probably attacked by DDoS: an excessive number of requests per second was recorded." Other military sites are also apparently suffering problems.
In what appears to have been a coordinated attack, Ukraine's biggest commercial banking operation PrivatBank and big-three financial institution Oschadbank were also hit around the same time, knocking out some online transactions and ATMs across the nation. Oschadbank is now back up and running, albeit in a limited way, but PrivatBank's website is still down for the moment.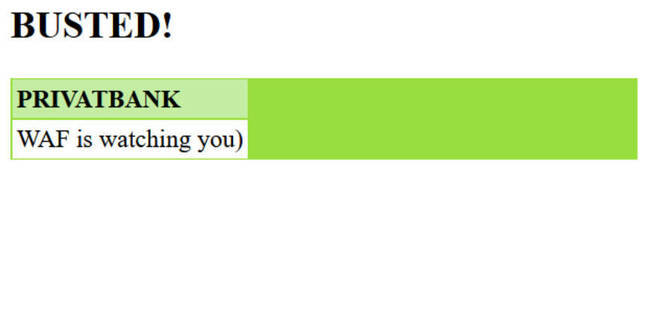 Not a good look for your largest bank. Click to enlarge
"As of 1930, the work of banking web resources has been resumed.," said the Ukraine government's Centre for Strategic Communications on Facebook. "PrivatBank has suffered a DDoS attack. For one hour during the attack, some services (ATM, TSO) were not working. Starting at 1630 these services have been restored."
"Oshchadbank also suffered a Ddos attack. Work is currently underway to restore the system. She is already working in stable mode. There is only a slow entry to the Oshchad24/7 system due to an additional load on the communication channels."
While such attacks are of limited immediate effect, the events will set off a Chinese military parade of red flags in the mind of security engineers. DDoS attacks are frequently used as a distraction (or maskirovka in Russian) for more advanced intrusion techniques to be carried out or tested, and these are high-profile targets.
Given similar incidents last month attributed to Russia and its satellite-state Belarus, not to mention a five-year record of such shenanigans – not to mention over 100,000 Russian Armed Force troops massing on the borders – you'd have thought the Ukrainian military would have reacted more speedily. It appears commercial operations are still getting the best talent in instead of the military.
Incidentally, Russian state-media org Tass reports Russia is pulling back some troops from the border after "scheduled drills." ®