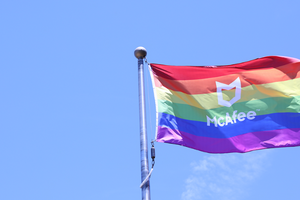 In the spirit of #PrideMonth, McAfee hosted month-long celebrations across the world. One of these was a live event hosted by the McAfee Pride Community with a guest speaker from the Resource Center that focused on the history of Pride, support, allyship, and belonging.
We took a moment to ask our event guest speaker, Leslie McMurray, about the work that Resource Center does, the importance of pride, and what companies can do to create inclusive work environments.
Tell us a bit about Resource Center and what you do?
"We like to say, if we had an "elevator pitch", we would need a really tall building! Resource Center has been around for 39 years and is one of the largest LGBTQIA+ community centers in the United States, it is a primary HIV/AIDS service organization in Texas.
Some of the work that we do includes operating a food pantry and hot meal program that serves low-income people living with HIV. We have a case management department that helps locate resources that we don't directly provide, like housing. And we have a primary care clinic that is gender-affirming and a ten-chair dental clinic that also serves those living with HIV.
We also have a youth program called Youth First that serves youth from middle-to-high school. We have a behavioral health program and a clinic that does free testing for HIV and STDs along with a mobile health unit that does free testing in outlying areas. Finally, our advocacy department has three full-time employees!
Why it is important to learn about pride?
"Sometimes we get asked "What's 'Pride' about? Why do you need a parade?"
It's important to understand that LGBTQIA+ people are still working to achieve equal rights – the same as everyone else.
The tipping point of the fight for equal rights in the US dates back to 1969 when the Stonewall Uprising took place in Manhattan. The first Pride march was held a year later to honor the anniversary of the Stonewall Uprising and continues to take place during the month of June each year. And while we appreciate the attention during the month, the continued fight for equal rights for the LGBTQIA+ community is yearly, and we need continuous support and allyship of people and businesses year-round.
So it's really important for people to learn about diverse populations, understand what their challenges are, and educate yourself on these issues – from that spring's allies."
What should companies do to create inclusive work environments
"One of the simplest things for companies to do is to include 'Sexual Orientation, Gender Identity and Gender expression' in your Equal Employment Opportunity statement. Other things companies can do is to look at putting a policy in place for transgender employees who are transitioning and consider including transgender healthcare in your company benefits package.
Make sure to help foster understanding by getting employees to do training with organizations like Resource Center. And empower upper management to lead the way ensuring all employees can bring their whole selves to work. Finally, when the opportunity arises look at working with and bringing in non-profit organizations into your company to continue spreading awareness and support for the LGBTQIA+ community.
And while June wraps up Pride month, year-round we work towards a workplace and community where all can belong – a workplace where our unique differences are celebrated and where we all stand together for equality. #McAfeePrid
Learn more about the incredible work that Resource Center does here
Interested in building your career at a company where you can belong? Search our openings!