US agricultural machinery maker AGCO is the latest high-profile organization to fall victim to ransomware, which it says affects operations at some of its worldwide production facilities.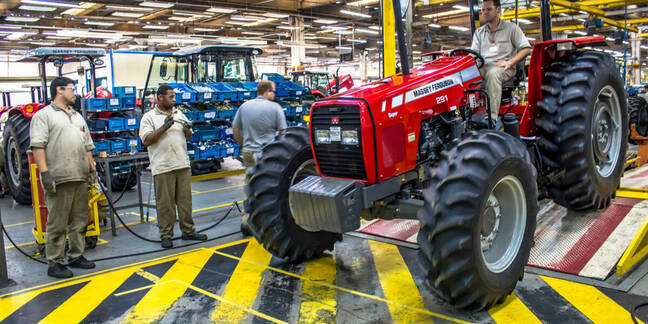 Massey Ferguson tractor production line at Agco's machinery plant in Canoas, Rio Grande do Sul, Brazil
The move may impede the delivery of machinery such as tractors, which is unfortunate timing as the planting season for summer crops is underway.
AGCO put out a short statement on its website disclosing the ransomware attack, and confirmed it continues to impact some of production facilities.
The company is currently investigating the extent of the attack, but expects business operations would be adversely affected for at least several days.
Resuming full operations across all services might take longer depending upon how quickly AGCO is able to repair system, hinting at the seriousness of the attack and potential measures to control the spread. AGCO said it would provide updates as the situation progresses.
AGCO may not be a familiar name to everyone, but it is the owner of the Challenger, Massey Ferguson, Fendt and Valtra brands of agricultural machinery, and thus supplier of a large number of tractors and other farming equipment to various markets around the globe. Its biggest rivals include John Deere maker Deere & Company, Komatsu, and Caterpillar Inc.
The company has so far given away little detail regarding the actual attack, not yet naming the specific ransomware variant involved, which systems were and are affected, whether a ransom has been demanded, or the extent of its spread within the AGCO infrastructure.
However, according to reports in the French media, the Massey Ferguson tractor production lines in Beauvais, north of Paris, were shut down at the end of last week and the assembly line workers were sent home after servers at the facility were rendered inaccessible. And according to German media reports, workers in the Bavarian production facilities of AGCO's Fendt brand haven't come into work as the IT outage continues.
Meanwhile, Reuters reports that the attack has come at a bad time, when agricultural machinery makers are facing supply chain disruptions and other issues that had already seen them struggling to keep up with demands for new equipment.
The news follows a report from the FBI that cybercrime cost victims around the globe at least $6.9 billion last year, with the volume of attacks and their related costs growing larger every year. According to the FBI, the three top variants of ransomware that were deployed against critical infrastructure companies last year were Conti, LockBit and REvil/Sodinokibi.
AGCO reported net sales for the first quarter of 2022 of $2.7 billion, an increase of nearly 13 percent compared to the first quarter of 2021.
Prior to the ransomware attack, AGCO raised the full-year outlook for net sales and net income per share, declared a special dividend of $4.50 per share payable in June, and said it had increased quarterly dividend payouts by 20 percent. ®