Trouble is brewing over moves by Taiwan to prevent China from gaining access to its chip technology, as the island nation proposes tougher laws to deter the leaking of trade secrets outside the country.
China has reportedly hit back after Taiwanese Premier Su Tseng-chang called this week for a speedier introduction of legislation designed to protect the local semiconductor industry from what it sees as Chinese industrial espionage.
These efforts by Taiwan to prevent Chinese companies from acquiring chip secrets and poaching key talent were denounced as a "provocative smear".
Changes to Taiwanese law were proposed in February when its Parliament, the Executive Yuan, approved draft amendments to Taiwan's National Security Act.
As The Register reported at the time, these would introduce two new crimes, one of "economic espionage" and another of "extraterritorial use of national core technology trade secrets", which would carry jail sentences of 12 years and 10 years respectively.
The laws would also require workers or organizations involved with things deemed critical national technologies to seek Taiwanese government approval before travelling to mainland China, or face steep fines.
Premier Su this called for the swift approval of those laws, claiming that China was stepping up its efforts to infiltrate Taiwan and gain access to its chip technology. He reportedly told a Cabinet meeting that the "red supply chain" was using various methods to get hold of vital chip secrets and tempt away Taiwanese chip design talent.
Last month, the Taiwanese Ministry of Justice Investigation Bureau rounded up 60 Chinese nationals suspected of acquiring trade secrets or poaching talent for China-owned firms.
The local media reported that Chinese headhunters were seeking to hire experts in integrated circuit design, electronic design automation, telecommunications, and electric vehicle manufacturing.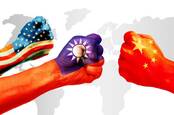 US Army journal's top paper from 2021 says Taiwan should destroy TSMC if China invades
Taiwan is a key player in the global semiconductor industry, and is expected to account for 68 per cent of the foundry market by 2025, according to IDC, thanks to firms such as contract manufacturer TSMC.
The latest moves are just the latest round of antagonism between the Middle Kingdom and Taiwan, which China regards as a rogue province.
Earlier this year it was revealed that a top US Army War College had suggested that Taiwan should threaten to destroy its semiconductor manufacturing facilities if warned with invasion by mainland China. ®