After last week's website defacements, Ukraine is now being targeted by boot record-wiping malware that looks like ransomware but with one crucial difference: there's no recovery method. Officials have pointed the finger at Belarus.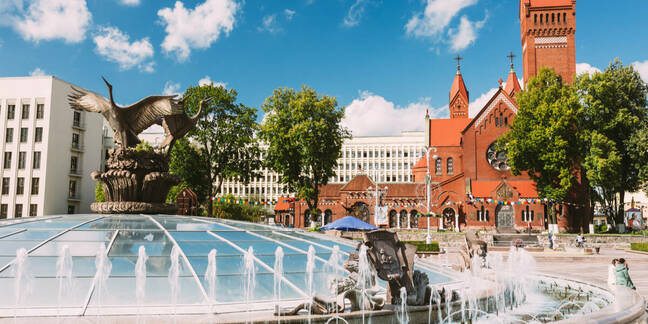 Fountain at Independence Square in Minsk, Belarus
Targets of this new malware wave "span multiple government, non-profit, and information technology organizations," according to a Microsoft warning issued over the weekend.
The malware itself wipes the target Windows system's master boot record, rendering it inoperable, and its main executable is "often" named stage1.exe, executed by Impacket.
The wiper's second stage, stage2.exe, then rampages through the rest of your system, overwriting everything from Word files to web pages (.HTML and .PHP files), images and databases. It searches for a large list of file extensions and overwrites the file's contents "with a fixed number of 0xCC bytes" totalling 1MB.
Redmond's Threat Intelligence Centre (MSTIC), part of its wider infosec operation, said the wiper was designed to look like ransomware and even drops a ransom note with a Bitcoin wallet address, urging victims to send $10k to it. On top of that, the ransom note also lists a Tox instant messaging address.
Deployed by a group named by Microsoft as DEV-0586, the wiper doesn't have a ransom recovery mechanism despite the above features. MSTIC added that it is "intended to be destructive and designed to render targeted devices inoperable."
So far the wiper is said to have infected "dozens" of systems.
The malware comes after a high-profile website defacement on Friday 14 January that affected a number of Ukrainian government sites. Their usual contents were replaced with notices in Polish, Russian and Ukrainian declaring that personal data had been stolen from the targeted agencies and leaked online; Ukraine later said no such theft had taken place.
An unpatched 6.4-rated CVE in October CMS, the government's preferred website content management system, was what let the attackers in.
Who did this? Not Russia but Belarus, says Ukraine
Blame for the hack was laid at the feet of Belarus over the weekend by Ukraine's Serhiy Demedyuk, deputy secretary of the country's national security and defence council.
He told Reuters it was threat group UNC1151, aka info ops group Ghostwriter, saying: "This is a cyber-espionage group affiliated with the special services of the Republic of Belarus… The malicious software used to encrypt some government servers is very similar in its characteristics to that used by the ATP-29 group".
Demedyuk's attribution cites the industry nickname for Russia's SVR spy agency. If Belarus, which recently tightened its political ties with Russia, is carrying out cyber attacks directed by Russia and using Russian tools, this adds another dimension to the simmering conflict in Ukraine. ®